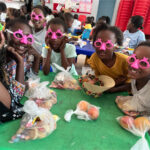 End-of-Year After Care party in December 2022
Please join us in congratulating our newest set of graduates! These makhulus have completed our sewing class. We are grateful to The Stephen Lewis Foundation who help us keep this class running.
Thank you to Living Hope for your generous donation of materials! This helps sustain our sewing project and allows our many seniors to create new products to supplement their pension grants.
If there is anything you need made for your company or yourself, please consider enlisting the services of our GAPA seniors! With help from our income generation coordinator Florence Hlagadala, we can fulfil most briefs requiring sewing, beading and/or crocheting. Add a loving touch to your next project.