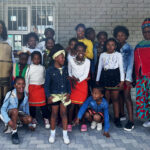 Heritage Day 2022
On the 10th of November 2022, we celebrated our 20th anniversary! Our seniors shared with us how they would like to mark this occasion; and we were able to deliver on their vision. We hosted 400 guests at our center, over 300 of which were seniors who are current members of clubs as well as former members who made significant contributions to our journey.
We were also able to share this moment with representatives from partner organisations who have understood GAPA's vision and helped us fulfill it. We had representatives from ENS Africa, Black Sash, UCT, AJF Foundation, Grandslots, HSFSA and African Impact. We were able to use local vendors for the tent and some refreshments; and our staff worked together to cook lunch for all 400 guests.
We appreciated the celebration as it allowed us to reminisce about and reflect on our history as well as energized us in visioning our future.